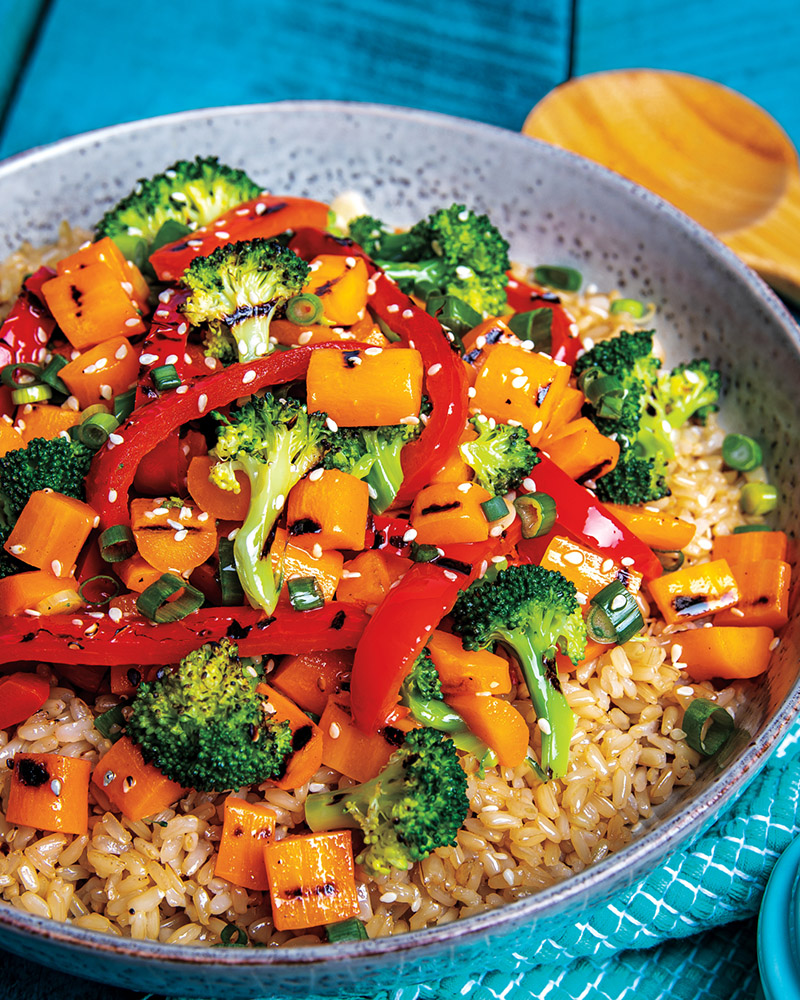 Grilled Veggies & Brown Rice with Asian Vinaigrette
Prep: 20 minutes plus cooling
Grill: 8 minutes • Serves: 4
1
pound carrots, halved lengthwise
2
large red bell peppers
1
large head broccoli, cut into large florets
Nonstick cooking spray
3/4
cup sliced green onions
2
tablespoons white sesame seeds
2
packages (8.8 ounces each) ready-to-serve brown rice
1/2
cup favorite Asian sesame vinaigrette or dressing
1. Prepare outdoor grill for direct grilling over medium-high heat. Spray carrots, peppers and broccoli with cooking spray; place on hot grill rack and cook, uncovered, 8 minutes or until grill marks appear, turning occasionally. Transfer vegetables to cutting board; cool slightly.

2.Thinly slice carrots crosswise; cut broccoli into small florets. Cut pepper lengthwise in half, and remove stems and seeds; cut lengthwise into strips. In large bowl, toss vegetables, onions and sesame seeds. Makes about 6 cups.

3.Prepare rice as label directs. Serve 1/2 the vegetable mixture over 1 package rice drizzled with 1/4 cup vinaigrette.

4.In same large bowl, toss remaining 1/2 the vegetables, 1 package rice and 1/4 cup vinaigrette; cover and refrigerate up to 2 days. Makes about 3-1/2 cups.


Approximate nutritional values per serving (3/4 cup vegetable mixture,1/3 cup rice, 1 tablespoon vinaigrette):
204 Calories, 5g Fat (0g Saturated), 0mg Cholesterol,
329mg Sodium, 36g Carbohydrates, 6g Fiber, 5g Protein
Chef Tips
To make your own Asian vinaigrette, whisk 1/4 cup refrigerated orange juice, 3 tablespoons less-sodium soy sauce, 1 tablespoon each honey and sesame oil, and 1 teaspoon grated fresh ginger. Makes about 1/2 cup.
For a spicy kick, stir sriracha or chili paste into bottled or homemade vinaigrette.
Dietitian's tip:
> Planned for a grilled meal and it's raining? When grilling in the rain, keep the lid closed to protect the burning charcoal or cooking wood from moisture. Whenever you open the lid, rain – or at least moisture vapor in the air – will enter the inside of your grill and potentially extinguish your fire.