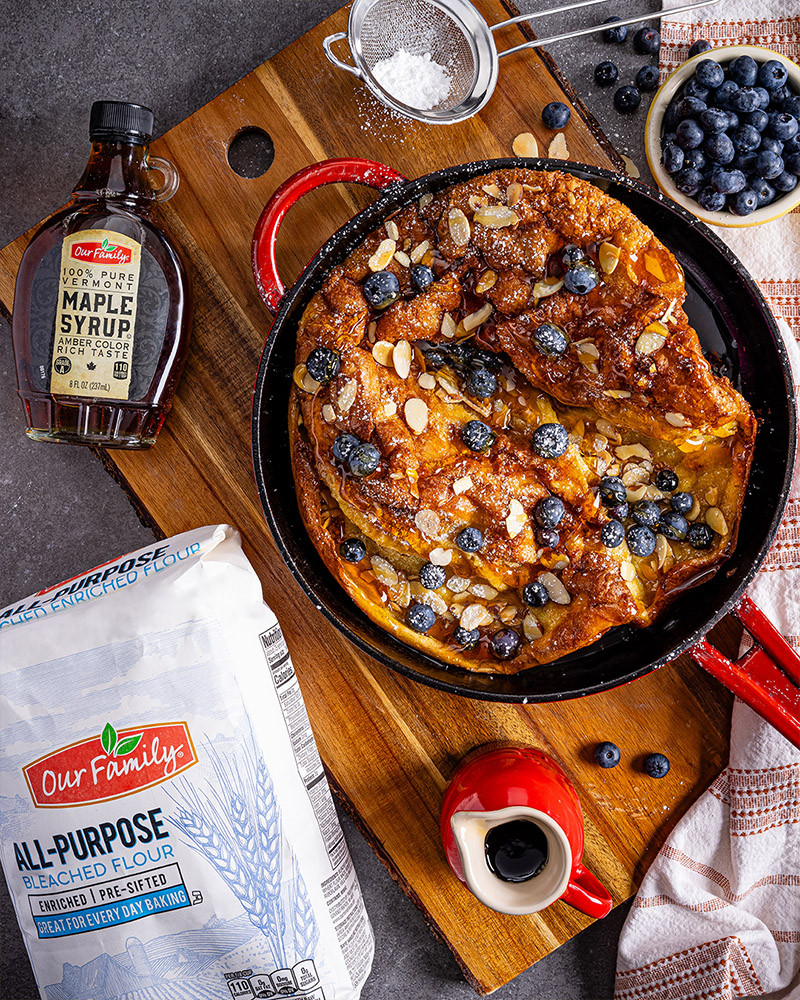 Click to See How-To Video!



Blueberry-Almond Dutch Baby Pancake
Prep: 20 minutes plus standing
Bake: 20 minutes • Serves: 4
3
large eggs, at room temperature
1/2
cup
Our Family® All-Purpose Flour
1/2
cup whole milk, at room temperature
2
tablespoons
Our Family® Granulated Sugar
1-1/2
teaspoons
Our Family® Pure Almond Extract
1/2
teaspoon
Our Family® Salt
2
tablespoons unsalted butter
1
cup fresh blueberries
Toasted almonds and/or powdered sugar for garnish (optional)
1/4
cup
Our Family® 100% Pure Vermont Maple Syrup
1. Place 10-inch cast-iron or oven-safe skillet in oven; preheat oven to 425°.

2. In blender, blend eggs, flour, milk, sugar, almond extract and salt 20 seconds or until combined, scraping down blender after 10 seconds; let stand 25 minutes.

3. Carefully remove skillet from oven; add butter and carefully swirl to coat. Add egg mixture, tilting to coat bottom of skillet; bake 15 minutes or until puffed. Reduce oven temperature to 300°; bake 5 minutes or until golden brown. Top with blueberries; cut pancake into 4 pieces.

4. Serve pancake topped with almonds and dusted with powdered sugar, if desired, and drizzled with syrup.


Approximate nutritional values per serving (1 piece):
286 Calories, 11g Fat, 5g Saturated Fat, 158mg Cholesterol, 354mg Sodium,
39g Carbohydrates, 1g Fiber, 24g Sugars, 18g Added Sugars, 8g Protein

Chef Tip
To toast almonds: In large skillet, toast almonds over medium-high heat 4 minutes or until lightly browned and fragrant, stirring frequently; transfer to plate to cool.