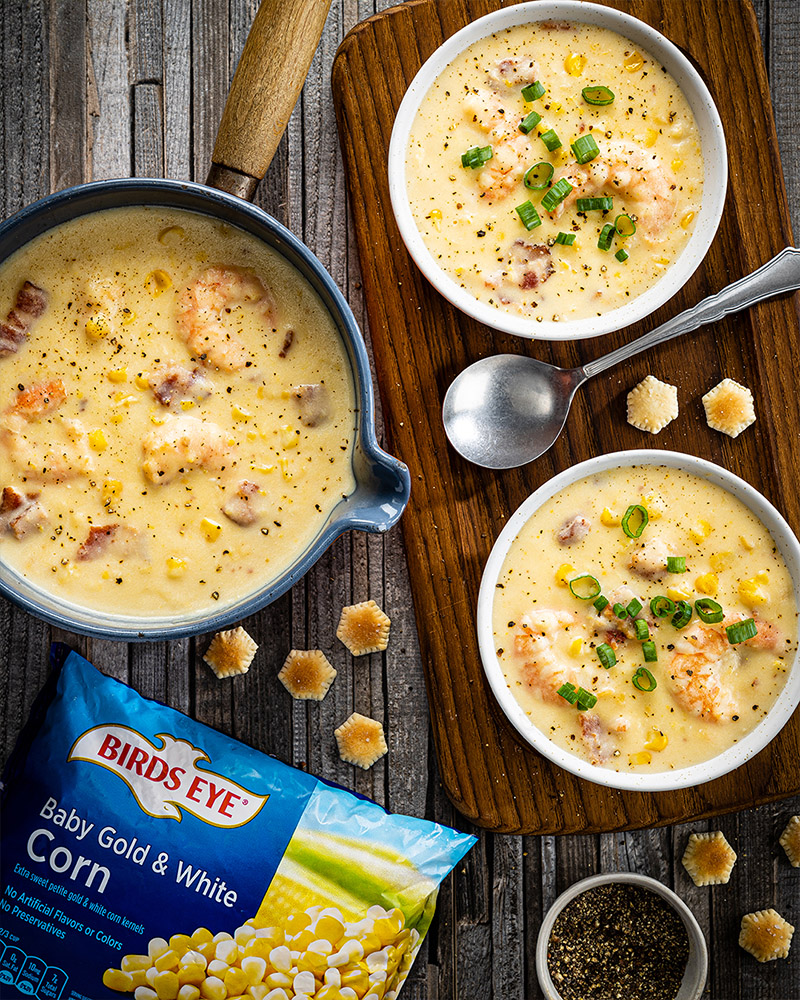 Click to See How-To Video!



Shrimp & Corn Chowder
Prep: 10 minutes
Cook: 17 minutes • Serves: 6
6
slices thick-cut bacon, chopped
1
pound raw 16-20 count peeled and deveined shrimp, tail shells removed, thawed if necessary
1
can (14.75 ounces) cream style corn
1-1/2
cups
Birds Eye® gold and white corn
, thawed
3
cups
whole milk
, at room temperature
1-1/4
cups instant mashed potato flakes
1
cup
shredded sharp Cheddar cheese
Sliced green onions for garnish (optional)
1. In large saucepot, cook bacon over medium-high heat 5 minutes or until browned, stirring occasionally; with slotted spoon, transfer to paper towel-lined plate.

2. In same saucepot with drippings, cook shrimp over medium-high heat 4 minutes or until shrimp turn opaque throughout, turning once; transfer to paper towel-lined plate with bacon. Drain all but 1 tablespoon drippings from saucepot. Add cream style corn and corn; cook over medium-high heat 3 minutes, stirring frequently. Reduce heat to medium; stir in milk and 1 cup water. Heat to a simmer, stirring occasionally; remove saucepot from heat. Gradually stir in potato flakes, stirring until thickened; gradually stir in cheese, stirring until melted. Stir in bacon and shrimp. Makes about 8 cups.

3. Serve chowder garnished with green onions, if desired.


Approximate nutritional values per serving (1-1/3 cups):
415 Calories, 15g Fat, 5g Saturated Fat, 197mg Cholesterol, 810mg Sodium,
32g Carbohydrates, 1g Fiber, 11g Sugars, 3g Added Sugars, 33g Protein