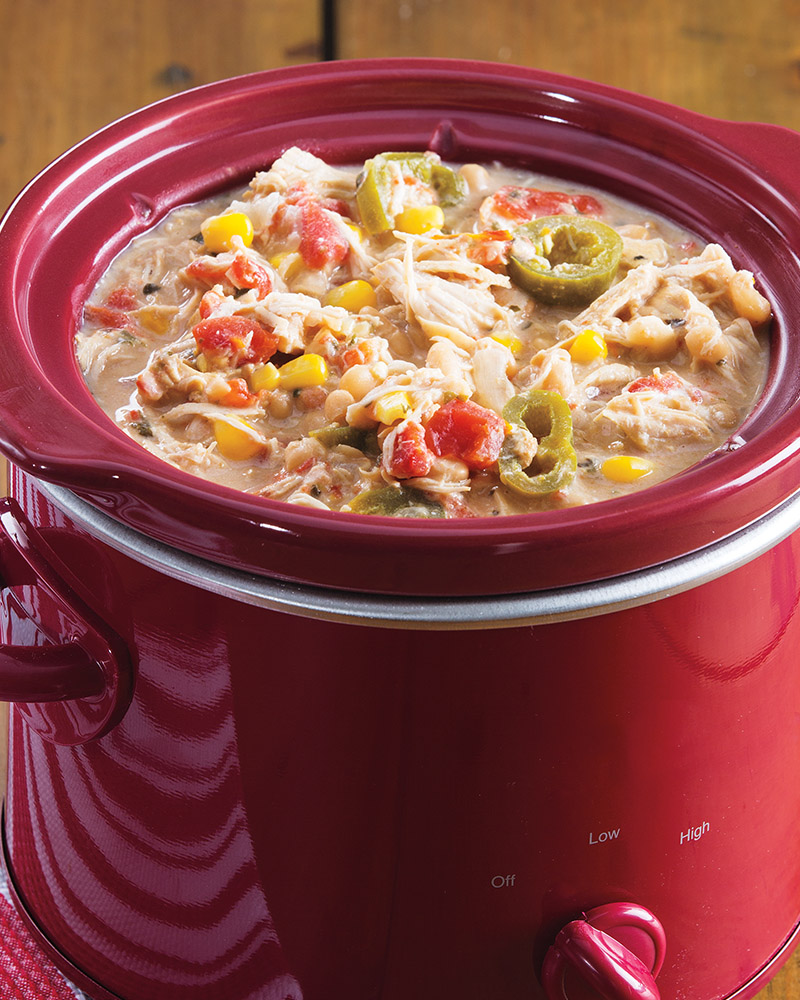 Creamy White Bean-Jalapeño Chicken Chili
Prep: 20 minutes
Slow Cook: 6 hours 15 minutes • Serves: 10
2
cans (14.5 ounces each) chicken broth
1
can (14.5 ounces) diced tomatoes, undrained
1
teaspoon ground coriander
1
teaspoon ground cumin
1
teaspoon dried oregano
1
teaspoon salt
3
boneless, skinless chicken breasts
3
garlic cloves, minced
3
medium jalapeño peppers, seeded if desired, sliced
1
medium onion, chopped
1
package (8 ounces) cream cheese, cut into small pieces, room temperature
2
cans (15.5 ounces each) great Northern chili beans in mild chili sauce, undrained
1
cup frozen corn
2
tablespoons fresh lime juice
1/2
cup shredded sharp Cheddar cheese
Optional toppings: crumbled cooked bacon, chopped green onions, chopped cilantro, sliced jalapeño pepper, crushed tortilla chips, sliced radishes
1. In 4-1/2- to 6-quart slow cooker, stir broth, tomatoes, coriander, cumin, oregano and salt; add chicken, garlic, jalapeños and onion. Cover; cook on low 6 to 7 hours (high 3 to 4 hours).

2. Transfer chicken to cutting board; shred chicken with 2 forks. Stir cream cheese into chili, then stir in beans, corn and shredded chicken; cover and cook 15 minutes on low (10 minutes on high) or until heated through.

3. Stir in lime juice. Serve chili topped with Cheddar cheese and optional toppings, if desired. Makes about 12 cups.


Approximate nutritional values per serving: 

242 Calories, 10g Fat (6g Saturated), 44mg Cholesterol,
1199mg Sodium, 21g Carbohydrates, 5g Fiber, 16g Protein

Dietitian's tip:
> If you prefer more of a traditional chili with ground meats, try using cooked Honeysuckle Ground Turkey in place of chicken breast. It will also be quicker if you don't have all day to wait for the slow cooker.