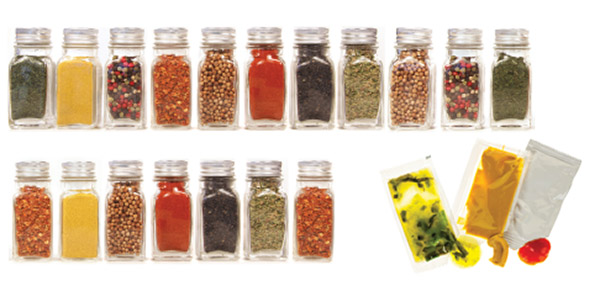 Kitchen and Pantry Makeover
If you are struggling with your New Year's resolution, or just wanting to kick-start your healthy eating plan, you might want to begin with a kitchen makeover! Think about how you feel when you get a new haircut, spring-clean your house, or clean out your closet to make room for a shopping spree! It feels so refreshing, energizing and motivating. You want to think of your eating habits as needing the same attention and upkeep. Here are four Eat Smart. Be Well. tips to help you clean out the junk!
1. Out with the old, in with the new
>If you have not used it in one year, get rid of it (this same rule applies for the clothes in your closet, and for the same reason)! This extra clutter can add to your stress level, which is not beneficial for overall health. Get rid of it to make room for new, adventuresome foods!
> General rule of thumb: If you can't remember the last time you used it or if it has more than five ingredients (AKA processed food), pitch it or donate it if not expired!
2. Spice up the spice cabinet!
> This is one drawer that always seems to be overflowing and cluttered with things you don't ever use. It's time to clear it out and spice it up!
> In general, if it's past the expiration date, it's time to go. If there is not an expiration date, use the appearance, smell and taste method. If the herb or spice has lost its vibrant color, you can't smell the intense aroma and it does not have much flavor… it's time to go!
> Some seasoning blends have additives such as artificial coloring, preservatives, binders, MSG or artificial flavorings or artificial sweeteners added. We want to get rid of these and restock with all natural and whole ingredient herb and spice blends.
> Try some new spices you may not normally use such as: turmeric, ground coriander, cumin and curry powder.
3. Change up condiments
> Terrified of the inside door of your refrigerator? Then it's really time to clear it out! Sort through all the condiments, salad dressings, sauces and marinades and if you don't use it or it's expired, pitch it!
> Check the ingredients. These items are notorious for having added sugars, oils, preservatives and artificial ingredients that we don't want. Make sure that what you keep has all-natural ingredients.
> Restock with healthier items such as apple cider vinegar, gourmet mustards, balsamic vinegars, sesame and walnut oils, all-natural vinaigrettes, pesto, tahini, olive tapenade, kimchi, sriracha, soy sauce and tamari.
4. Create a healthy "snack drawer"
> This is for the times when you have a sweet tooth, want a quick snack or just have a craving.
> Keep it stocked with things like dried fruits, dark chocolate, Lärabars, Pure Bars, Go Raw Cookies, pistachios, dry roasted edamame and air-popped popcorn. Put things in there you love to eat, but do so in moderation. Also create this same space in your refrigerator. Keep fresh foods such as yogurt, washed fruits and vegetables, hard-boiled eggs and cheeses ready to grab in a pinch! A fruit bowl near the door or on the counter is helpful as well!
Happy kitchen cleaning!